Nothing makes you feel better than when you get into a hotel bed, and the sheets feel so good. Why shouldn't you wake up like that every day? Spend money on your mattress and bedding because these things make a difference on your sleep and, ultimately, your happiness. – Bobby Berk
After a long hard day, nothing is more important than a comfortable bed.
Cozy pillows, cool, elegant sheet and a comfortable mattress is what we all look for in our bedroom. Soft, luxurious and elegant -that is everyone's thought when it comes to bedding. You have bought your dream house, decorated it to your liking and now you are standing in a furnishing store (or surfing their website on the internet) As you start looking for the bedding set, you are confused and lost.
You thought putting together a heaven like place including the bed needed just a mattress, a bed sheet, a duvet and a couple of pillows. Apparently not! There is more to it than you imagined. No amount of caffeine can help you out to understand what you actually need on your bed and what not.
But don't give up.
Hey, it's easy to feel so. Because putting together a well made bed needs more than what meets the eye. Words like Bed Skirt or a Dust Ruffle can be baffling and a little more complex than you actually imagined. But would you rather buy something that you actually don't need (after spending your hard-earned money) or would you like to know what exactly you are spending on?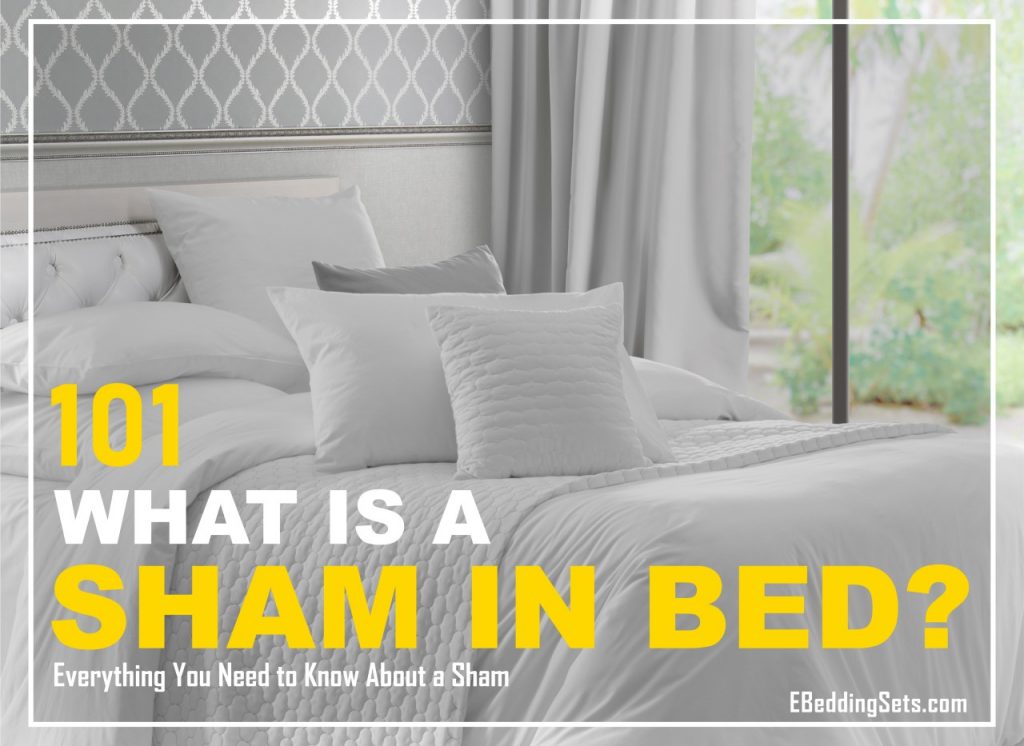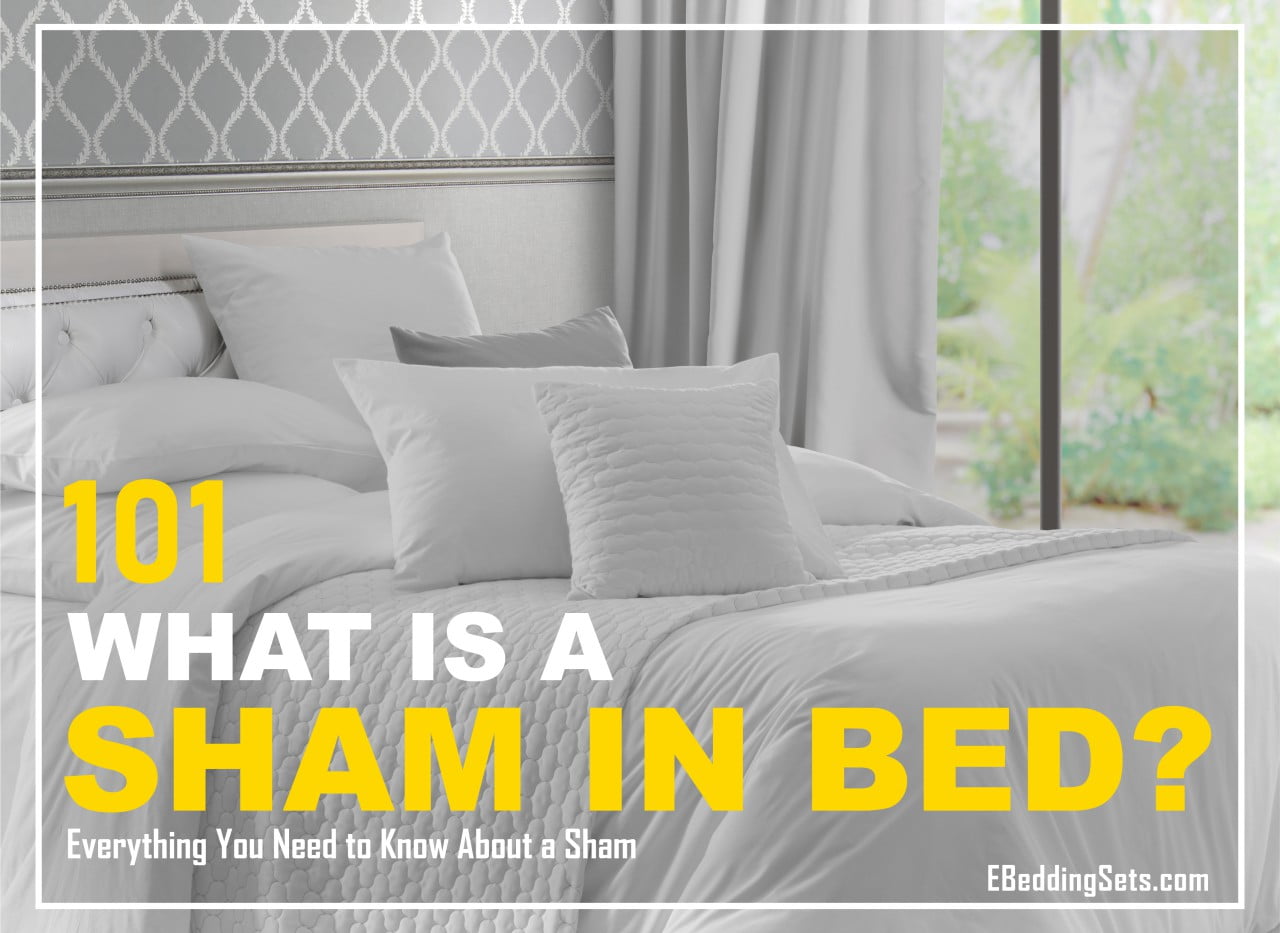 Well, whether you are a hardcore decorator or someone wanting to craft a thoughtful home, knowledge pays off!
So let us help you out. You can spend a next few minutes going through this content or hit the back button. But we had rather show you what exactly you are looking for based on our expertise in the furnishing niche. Now won't it be pretty cool?
Have you ever looked at the exquisite styled bed with an intricately embroidered sham or a chic one with texture and ruffles? Yes, it might take you some time to fully learn the art of perfect bedding, we can start with the basics and make things easy.
Many a time, people ask us what is a sham. What is a pillow sham used for? What is the difference between a pillow and sham. When should one use Sham or how to find the perfect sham. Keep reading to find out some information on this bedroom essential.
As per Oxford dictionary, a sham means a thing that is not what it is purported to be. Pretense, or falsely present something as the truth. However, sham also means an ornamental covering for a pillow. Now you might wonder how sham is dissimilar from the pillow. The next question might be how pillow sham is different from a pillowcase. After all these both do sound and look alike. But there are some small and subtle differences between these two as well.
WHAT IS A SHAM
We cover the pillows on which we sleep with pillowcases. As per the meaning of word Sham, pillow sham is a case that is not what it is purported to be. It has a decorative purpose. While the word 'sham' do mean to deceive, but a pillow sham is more than that. Typically it is used to protect the pillow from the dust. Many a time, a pillow sham or famously called as Sham also lends beauty and charm to the bed with the beads, embroidery or ruffles, etc. It has a wider boarder, so the pillow looks bigger than what it actually is. Many people use it as an ornamental detail for their bedding. Or take off the pillow sham before sleeping on the pillow. The sham can match the comforter or the sheet.
A sham pillow is probably quite similar to the normal pillowcase but it is light, decorative, beautiful. Many a time it is knitted and used as an ornamental cover for a pillow.
If we look back, during the 17th century, the artisans used to craft decorative pillows. These cushions had removable covers and a 'false front'. Later on, these pillow cases with a 'false front' started to be called as pillow shams.
In short, a sham / pillow sham is different from a pillow case. It is a decorative and removable case to cover the pillow. While a throw pillow is added to a bedding as a decoration piece, you can remove sham with a traditional pillowcase to sleep. Unlike the traditional pillowcase with a big side opening, the sham has a zippered or buttoned back opening.
You can sleep on the pillow sham like your normal pillowcase. But mostly we use pillow sham as a decor during the day. If you are sitting in bed, reading or watching the television, the same can be arranged to lend support. At night while sleeping, you can place the sham behind your sleeping pillows or take it out completely.
Here are some more pointers to give you a clear understanding of a normal pillowcase and a sham pillow.
Normal Pillowcases: You can find them in standard and king size. Nowadays you even get a queen size. But that size is still not very popular. We have observed that maximum number of people like to use a standard size pillow. Such pillows fit to most of the beds and are easy to adjust or position. Here are some features of the normal pillow case –
They are open at one end
They have a flange at the opening
They are mainly used to protect the pillow from dust
They are primarily used for sleep
Pillow shams: Even they are found in a different range of sizes. Unlike the regular bed-pillowcase, they open in the back. Most of the times, the front part of the sham is fancily decorated. The back side is plain with an overlapped open slit in the middle to easily insert the pillow like an envelope. For a tight fit, many shams also have a zippered back. The traditional ornamental bedding sets are made up of a standard duvet case and two matching shams in the same fabric. Often they also contain two more regular, non-decorative standard pillowcases for sleeping. Here are some features of the pillow sham –
They mostly have a tuck fold on back
Many a time, all four sides have a flange or cording
Unlike the normal pillowcases, they are a little more ornamental with different types of decoration
Nowadays some shams do come with a fabric that can be slept on
So hopefully now you have got the answer of what is a sham. Now your next query might be when one should use a sham. Don't worry. We have got you covered!
WHEN SHOULD ONE GO FOR A SHAM?
Let us mention that in case you are looking for transforming your bedroom in a shoestring budget, shams could come in handy. They are available in different materials with different price tags. They are a sure fire way to turn your normal, boring standard-sized pillows into an ornamental dreamy arrangement. In case if you have kids or pets, no need to worry. Unlike the throw pillows, you can easily remove and wash shams even in the washing machine.
But the question is after a hard day of work, who needs to spend time on removing dozens of throw and ornamental shams from their bed? It would seem like a waste of time to have pillows that don't have any other purpose than the mere decoration.
And that's why, some brands are now coming up with shams who don't have stiff material or too many decorations. They are made with a bed sheet like material. Most of the shams have the closing in the middle of the back. But these shams flaunt the seam to the edge of the pillow, making them an excellent, affordable and functional accessory for your bed that can be used for sleeping. Some shams now come in a comfortable material, and you don't have to remove them from the bed while sleeping.
You can get the perfect fitting pillow fills for shams to turn your normal pillows into full, fluffy and decorative accessory.
Well, as we have stated shams come in different sizes and you might want to know how to pick up the right one. So here we go!
HOW TO SELECT THE RIGHT SHAM FOR YOUR BED?
If you open the internet and google sham, you would find terms like king shams, euro shams, cushions and what not. Well, don't be surprised. if you thought all these items were just one fictitious pillow, think again. The sham does come in different varieties and we are going to explain each of them to avoid a future panic attack for you.
If you observe, unlike a big throw pillow, most of the retailers or e-commerce brands sell the pillows and cases separately. You can find the inner fillers anywhere for a sham. The sham is just for an ornamental purpose. It can be added as a decorative pillow just right in front of the headboard adding color and texture to your bedding set. It is more like a fancier, substantial cover matching the duvet to help set a theme or color of the room.
The shams are available in many styles. You will find them in cotton. But the market is flooded with other varieties like silk, velvet, polyester and mixed fabrics as well. The pillow shams might have a lace, tassels or pompoms as the outer edges or can have the same fabric used for the face of the bed sham.
A sham usually transforms the normal pillow into a decorative accessory. If you are planning to get a complete bedding set with shams, the shams will boast the same fabric as the duvet or the comforter. They are usually sold in pairs at the shops.
Normally corresponding with the traditional pillow sizes, shams too are available in four sizes. A standard bed sham is perfect to fit a standard pillow. If you use a king size pillow, you will need to get the kind sham. In case of a square pillow, you can get an European pillow sham with the measures 26" x 26".
Here is a short summary on the size of the sham with all the measures for your reference.
Standard Sham has the dimension of 20-by-26-inch
Queen Sham has the dimension of 20-by-30-inch
King Sham has the dimension of 20-by-36-inch
European/Continental Sham has the dimension of 26-by-20-inch
Although these are the standard sham sizes, many bedding brands now also offer travel-size pillow shams, or boudoir pillow shams. Some even make custom-sized pillow shams as per your order.
Whether you want a pillow sham on your bed or not is pretty much up to you. Today shams are available in a variety of styles and materials. Silk, cotton, velvet or sheer. Ultimately, selecting a sham boils down to your choice, budget and the theme or color of the room. You might opt for a zippered one or go the traditional way with the shams with buttons. You may want to get a functional pillow sham so that you can sleep on it. Or you may prefer to add it as an ornate piece to your bedding.
For some, the perfect, dreamy bedroom with lots of pillows, frills, laces is something they have envisioned since long. For others, comfort and functionality matter a lot. Either way, pillow shams are a perfect way to add layers, textures or tones to your bedding set. Since combining different pieces can create a luxurious and comfortable feel in the bedroom, you can play around and add shams of your choice for the style and sophistication. If you are worried about the maintenance, kindly check the label before you buy.